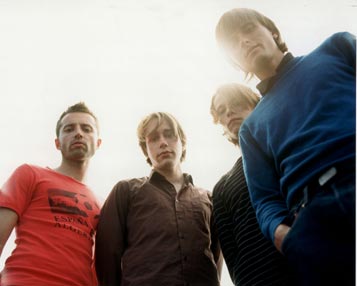 Mew
, from Copenhagen, Denmark, had (in my opinion) the best album of 2005-06 with:
And the Glass Handed Kites.
I highly reccomend checking that album out...
As for their tour, Mew has announced announced a North America recently that will be bringing them across the US and Canada from March-April.
There is a 100% chance I will be in attendance for the March 22, show at the Paridise Rock Club in Boston.
The Dates are:
Austin South by Southwest Austin City Limits show (March 14)
Austin South by Southwest Brooklyn Vegan party (March 15)
Austin South by Southwest Under the Radar party (March 16)
Austin South by Southwest La Zona Rosa (March 17)
Washington DC Black Cat (March 20)
New York Irving Plaza (March 22)
Boston Paradise (March 23)
Toronto Mod Club (March 26)
Chicago Double Door (March 28)
Denver Ogden Theatre (March 31)
Seattle Neumos (April 2)
Vancouver Richard's on Richards (April 3)
Portland Aladdin Theatre (April 4)
San Francisco Fillmore (April 6)
Los Angeles Fonda Theatre (April 7)
Kristiansand Norway Quart Festival (July 3)