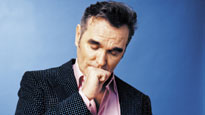 A new tour date was announced for Morrissey's upcoming US tour. According to
True-To-You.net
, Morrissey will be appearing at the Rabobank Arena in Bakersfield, California on Sunday, June 10th.

This venue will be another arena in a tour that ranges from Arenas, like MSG, to Lounges, like the Celebrity Showroom in Sparks, NV. Unlike most tours where an artist will play similar venues in different cities, Morrissey's management has chosen venues all over the board, in regards to size and capacity. It would be interesting to hear an explanation of how they came up with this plan...
Also, unfortunately, there is still plenty of confusion and conflicting information of how and when ticket sales will take place.
True-To-You.net
, which has been for the past few years considered to be the "official" news site for Morrissey, announced that tickets will go on sale March 31st with the exception of the Oakland date, which was to go on sale on April 1st. Ticketmaster has only a handful of dates posted with on sale dates which range from March 28th to March 31st, while Pollstar has more dates listed than Ticketmaster, but still not a complete list. Some of these shows also have pre-sales listed as a means to buy tickets. There has been no announcement by anyone in the Morrissey camp of how to access these pre-sales, frustrating many fans.
This problem needs to (and should) be remedied soon...stay posted...